Make 2014 your Breakthrough Year!
Release unwanted weight and create a better balance
of mind, body & spirit as you are guided to your
physical and emotional transformation in the New Year!
Purchase the Love Yourself Thin
90 Day Transformation Program for
$297 
OR
Love Yourself Thin 90 Day
Breakthrough Program
Your Physical & Emotional Transformation
from the Inside Out
The Love Yourself Thin 90 Day Breakthrough Program is completed
over a period of 90 days, and involves your participation in 9, 60-minute Teleclasses.
Each teleclass is available as a MP3 download, so you can re-listen to the content
as often as you like. You also receive a Personal Workbook with worksheets for each call,
and unlimited email support. In addition, each participant gets a  Special Bonus
of a complimentary, 30-minute, 1-on-1 Transformation Strategy Session with me!
Here are the key topics included in the 10 Teleclasses of the
Love Yourself Thin 90 Day Breakthrough Program:
* Creating your Dream Body Vision
* Raising your Vibration and Joy Level NOW
* Developing your Self-Love and Body-Love
* Identifying your Negative Beliefs about your Body
* Aligning your Thoughts, Beliefs, and Feelings for Weight Release
* Forgiving Yourself and Others and Releasing Pain from your Body
* Transforming your Deepest Fears about your Body and your Life
* Listening to your Heart and your Body and Trusting your Intuition
* Establishing a Support System for Weight Release Success
* Celebrating your Magnificence Body!
Here are Your Commitments for
the Love Yourself Thin
90 Day Breakthrough Program:
* Decide to make an investment in YOU
* Be totally open and honest with yourself
* Complete all your "homework" assignments
* Believe in the possibility that you can have the dream body and life you desire
Please  let me know if you have any questions and/or would like to better understand
what Love Yourself Thin 90 Day Breakthrough Program can do for you
(email: Cecily@CoachCecily.com).
Warm Blessings!
~ Cecily
P. S. Here is an audio class of 5 Steps to Loving Yourself Thin for you!  Enjoy…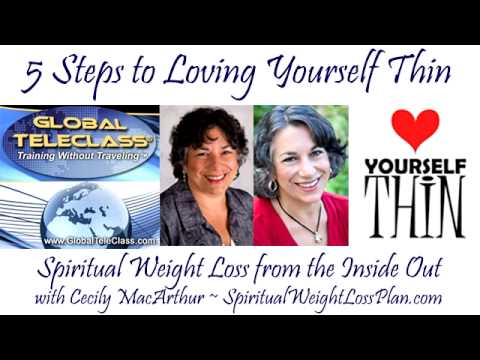 Share and Enjoy